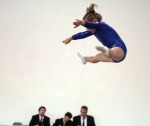 Junior Olympic Competitive Team
Levels 1-10 and also Elite levels:

Currently this is for ages 5 through College Age.

This program is for those who want to participate in gymnastics as a sport of their choice.

Petite Elites Levels 1 - 4 (Ages 4 - 7)
Training Team Levels 4 - 7 (Ages 5 - 10)
Junior Team Levels 5 - 7 (Ages 6 - 18)
Advanced Team Levels 8 - Elite (Ages 9 - College Ages/Adult-18+)

In the Junior Olympics and Elite athletes they travel to various meets throughout the year. This is a USA Gymnastics Member Club so our athletes have a year round schedule for training which includes in-season September through May (Nationals is typically in June or July) and summer training June through August.

Summer times are more flexible and as we move towards our competitive season our schedule picks up in pace.